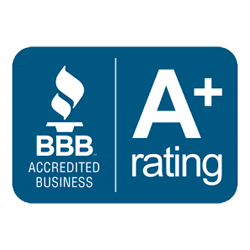 NORTH CANTON, OH – The International Association of Better Business Bureau (BBB) Inc., named All American Gutter Protection as an A+ business with accreditation since July 7, 2016. The BBB speaks to a business's track record of delivering results per BBB standards and addressing customer concerns. BBB is a leader in advancing marketplace trust and communications with company consumers. 
BBB ratings range from A+ to F and are based on the following factors that can increase or decrease ratings:
The business's complaint history with BBB.

The type of business the company is.

The time when business operations first begin.

The transparency of business practices, products and services. 

The company's adherence to honoring BBB's commitments.

The business's competency to acquire proper licensing and government action known to BBB.

The misuse of truthful, accurate and questionable advertising in accordance with the BBB Code of Advertising.
The BBB recommends consumers consider BBB ratings and other available information about companies to make decisions about reliability and performance. 
About All American Gutter Protection
At All American Gutter Protection we believe in providing the best materials in the industry to protect your home at a reasonable price. We are a trusted local gutter guard company serving communities in 18 states. We provide homeowners with excellent service in properly diverting rainwater away from their homes. As a trusted and family-owned company, we have the best-performing micro mesh gutter guards available anywhere.