The holidays are a time for bright lights and festivities. Hanging lights on your roof is a fun way to bring Christmas cheer to your house. But what if you decided to invest in gutter guards? While they are an intelligent investment for your home, they can be slightly inconvenient during the holidays, leaving you wondering how to hang Christmas lights with gutter guards.
There is an easy solution — gutter guard clips! You can use these clips to easily hang Christmas lights without worrying about damaging your gutter system, leaving no more questions about how to hang icicle lights on your gutter guards.
Gutter Clips for Christmas Lights
Gutter guard clips for Christmas lights are a convenient, easy and safe way to hang lights. They clip into your gutter guard and allow you to hang your holiday lights.
However, there are a few different types of clips. Your choice of gutter guard clips depends on your gutters, the type of lights you want to hang and how you want to decorate. Here are a few options you can choose from:
Gutter clips: These simple clips attach to your gutter guards to hang lights. These are the most common gutter guard clips as they are easy to install, cost-effective and do not damage your guards. They can be plastic, steel or aluminum.
Under-gutter clips: You can also use under-gutter clips instead of traditional gutter clips that go over gutter guards. These clips can wrap around the bottom of a gutter and provide space for you to hang lights.
Shingle tabs: These easily slide under asphalt shingles so you can attach your lights to your roof. You can use them in addition to clips for more intricate light displays. Tabs have a few drawbacks. Snowfall can dislodge them and move them out of place, and they may get in the way of removing snow from your roof.
Adhesive clips: Clips that adhere to a gutter system are another effective way to hang Christmas lights. You can use a strong adhesive to attach them to the front of your gutter. Adhesive clips are ideal for a long-term or all-year solution. The only downside is that severe weather might cause the adhesive to fail, so ensure you use an all-weather adhesive.
If you are unsure which gutter guard clips to use for your Christmas lights, reach out to All American Gutter Protection. Our technicians can help you choose the right option for your gutter system.
How to Hang Christmas Lights With Gutter Guard Clips
The time has come. You are ready to turn your house into a winter wonderland that will be the envy of the neighborhood. But where do you begin? Planning and hanging are two essential steps to hanging Christmas lights with gutter guard clips.
1. Planning
No one wants to waste time putting up clips only to reach for your lights and realize you don't have enough to cover your roof. Or you get started and the chosen clips don't fit your gutter and your lights.
Take the time to analyze your roof and select a gutter guard clip that suits your gutter system and the lights you want. Look at which roof edges have gutters and which don't. Measure your roof and get extra supplies to guarantee you cover the whole roof.
During this time, make sure there are no obstructions on your roof. Your gutters will be clear, but you might have to clean the roof of leaves from the changing season.
It is also a good idea to check with your gutter guard installers if they have any helpful tips. As the experts, they can guide you in choosing clips that are the least likely to damage your gutter guards. They will also let you know if any clips could void your gutter system's warranty.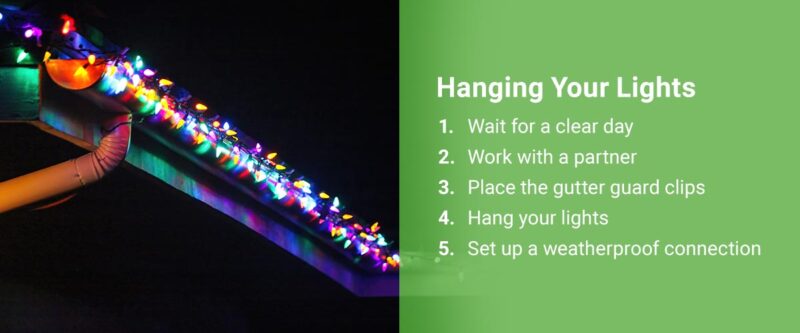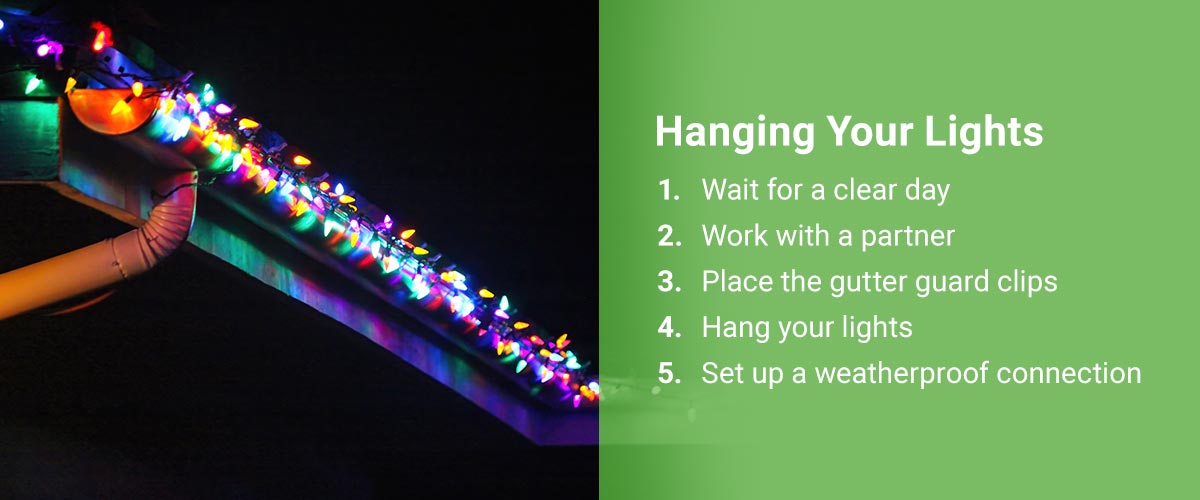 2. Hanging Your Lights
Once you have your lights, gutter clips and decoration plan, it's time to start! Follow these tips to make hanging your lights easier.
Wait for a clear day: You don't want to start and then have to stop because it starts snowing or raining.
Work with a partner: Safety is key! Make sure you work with at least one other person who can help keep your ladder steady and pass you supplies.
Place the gutter guard clips: Do this first. Set your clips about 6 to 12 inches apart, depending on how you want your lights to hang.
Hang your lights: Once your clips are up, hanging your lights is easy. Start at the end of your gutter closest to a power source and hang your lights on each hook. Don't try to hang your lights while setting up clips. This will take too much time and can be dangerous.
Set up a weatherproof connection: Use a heavy-duty, all-weather extension cord to connect your lights to the power source.
Tips for Hanging Christmas Lights With Gutter Guard Clips
Be safe when using a ladder: Don't lean too far to one side to set clips or hang lights. Instead, get off your ladder and move it over. There is less possibility of your falling over.
Hang lights wisely: We all want the brightest and biggest display. It is easy to want to hang as many stands of lights as possible on a clip, but remember not to overload the clip or your circuit.
Use gutter clips with a circular loop: Some gutter clips are designed to hold a light bulb rather than a string. If you aren't using large bulbs, choose gutter clips with a circular loop that can hold the lines of any type of Christmas lights for greater variety.
Keep the Christmas light line tight: Pull your lights as tight as possible without damaging the clip or your gutter guard when you hang them. Doing so will prevent drooping.
Protect your power connection: For extra protection, use a weatherproof cover for the connection between your lights and extension cords.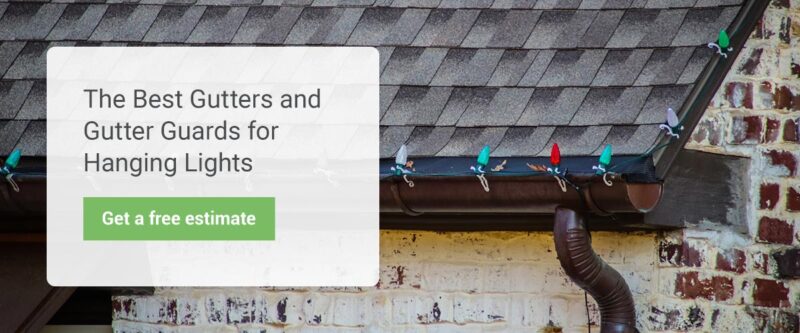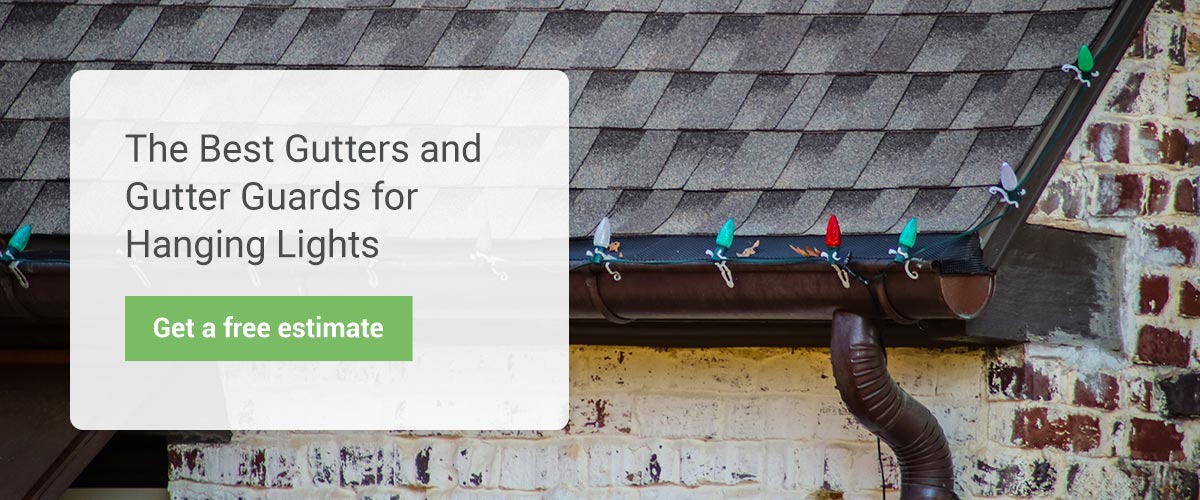 The Best Gutters and Gutter Guards for Hanging Lights
Hanging Christmas lights bring cheer to everyone, heralding the start of one of the most beautiful times of the year. Using Christmas light clips for gutter guards will help protect your gutter system while bringing the joy of the holidays to your home.
We design and install only the highest quality gutters and gutter guards at All American Gutter Protection. Our products are made with stainless steel and aluminum and won't bend, warp or crack — even when using gutter guard clips to hang Christmas lights. If you want a quality gutter system that can handle all your decoration needs, contact us today for a no-obligation gutter guard estimate!