Many homes are already equipped with gutters, which work to protect your house from water damage when leaking rain seeps into the cracks of your home's foundation. They divert water away from the home and protect the members of your household from issues like mold, rust and root rot. Gutter guards work to prevent the gutter from getting clogged, which would render it incapable of carrying out its purpose.
Methods of Gutter Protection Installation
There are three ways you can install gutter guards in your home, though some are more effective than others. Knowing your options and the advantages of each will help you make an informed decision about which installation method best suits your needs and budget.
DIY Installation
The first method is to install the gutter guards yourself. While many people see this option as the best choice cost-wise, the long-term costs of installing gutter guards yourself can add up, including tool purchases and more.
Many online guides illustrate how to perform the actual installation, which can be helpful and comprehensive. However, they often omit the maintenance and long-term upkeep costs of off-the-shelf gutter guards, which typically have a shorter lifespan that requires periodic cleaning to extend. Additionally, neglecting to clean these guards runs the real risk of accruing the water damage you want to avoid.
Roofers and General Contractors
Roofers and general contractors often provide generic gutter guard services in addition to their usual services. This offer is an advantage if you want to cut down on processes while fixing your roof or renovating your home.
If your general contractor has experience in gutter guard installation, you'll benefit by getting more than you initially bargained for! Consider, however, that contractors and roofers often only offer one type of gutter guard. It's also important to note the warranty of their installation and get more information about their repair services in the event that you'll need them. These areas are often where their limited services fall short.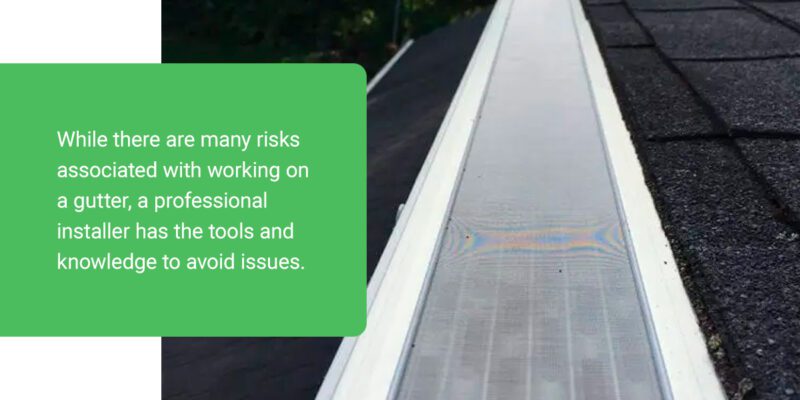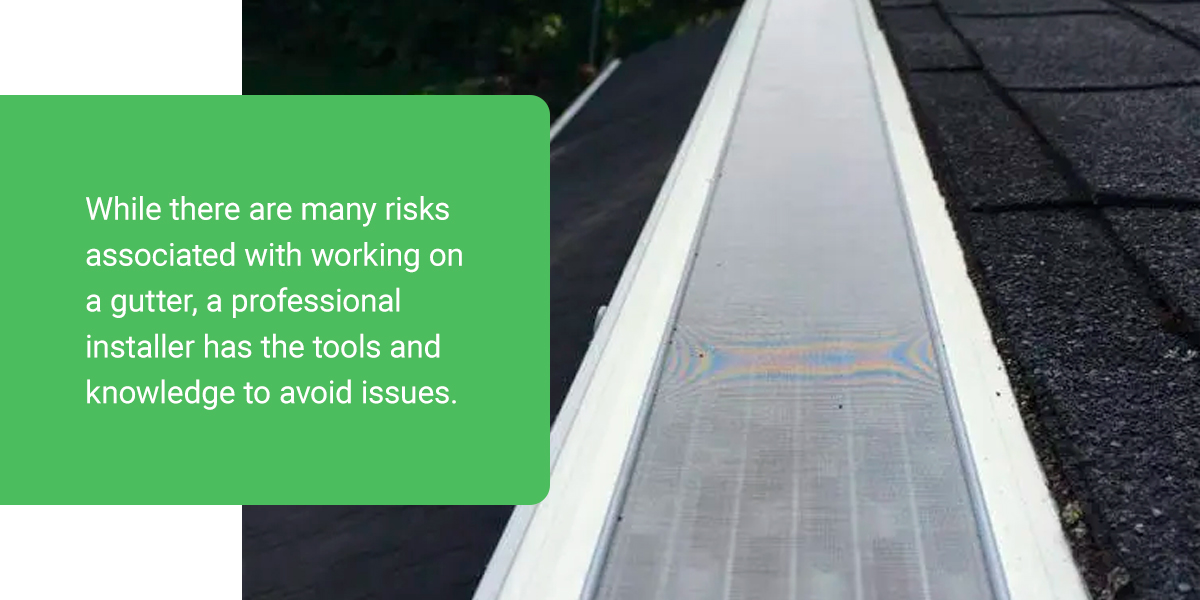 Professional Gutter Guard Installation
Becoming a professional leaf gutter guard installer is a rigorous process that requires licensing, accreditation and specialized training. That's why hiring one is your best bet for a successful installation process that will save you money in the long run.
We understand that cleaning debris and leaves out of your gutter guard can be a dangerous process if someone without experience does it. While there are many risks associated with working on a gutter, a professional installer has the tools and knowledge to avoid issues. They'll give your home a secure gutter guard that has a long lifespan and prevents any significant damage to the structure of your home.
Work With Gutter Guard Installation Experts Today
At All American Gutter Protection, your safety and the integrity of your home are our top priorities. We have technicians ready to protect your home from even the worst water damage with our proudly American micro mesh gutter guards. Contact us for a free gutter guard installation estimate on your gutter's requirements and add an extra layer of certainty to your home's lines of protection!