Gutter guards are a leading product for any home. They keep your home clean and safe when it rains, prevent water damage, reduce landscape erosion and give you peace of mind about your home's security. Choosing the right gutter guard installation company ensures you get the quality care and products you need to protect your home.
How do you find the right company for installing gutter guards? With multiple products and companies to choose from, you must know what product to look for and what company to trust. The All American Gutter Protection team has assembled five tips to help you select the right leaf guard installation company for your needs, timeline and budget.
1. Is the Company Accredited?
The Better Business Bureau (BBB) can help you learn more about gutter guard companies near you. You can check a company's ratings and reviews and see any complaints from previous customers. The BBB will point you to more established companies with project history.
Check out All American's BBB profile for an example of a quality BBB company.
2. Are They Licensed?
You will want to make sure a gutter guard installation company is properly licensed and registered to do business in your state. Knowing a company is keeping up with expected standards will help you find trustworthy options. You can look up your state's requirements to make sure that your top choices meet them.
3. What Do Previous Customers Have to Say?
Whether on BBB's website or through your own research, you will want to find out what people say about specific gutter guard installers before you start working with them. A company's website is another great place to start. View our customer gutter guard reviews page to see examples of positive customer reviews of our gutter guard installation.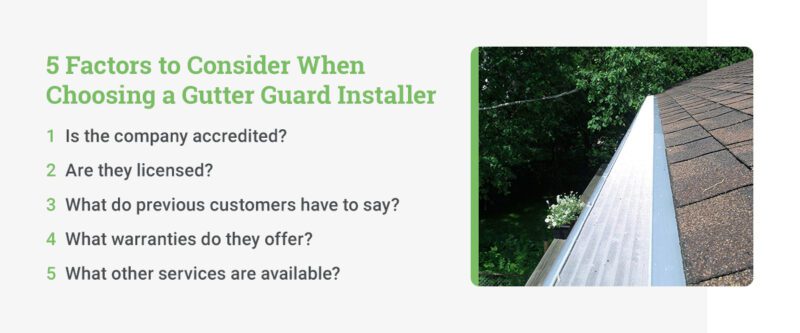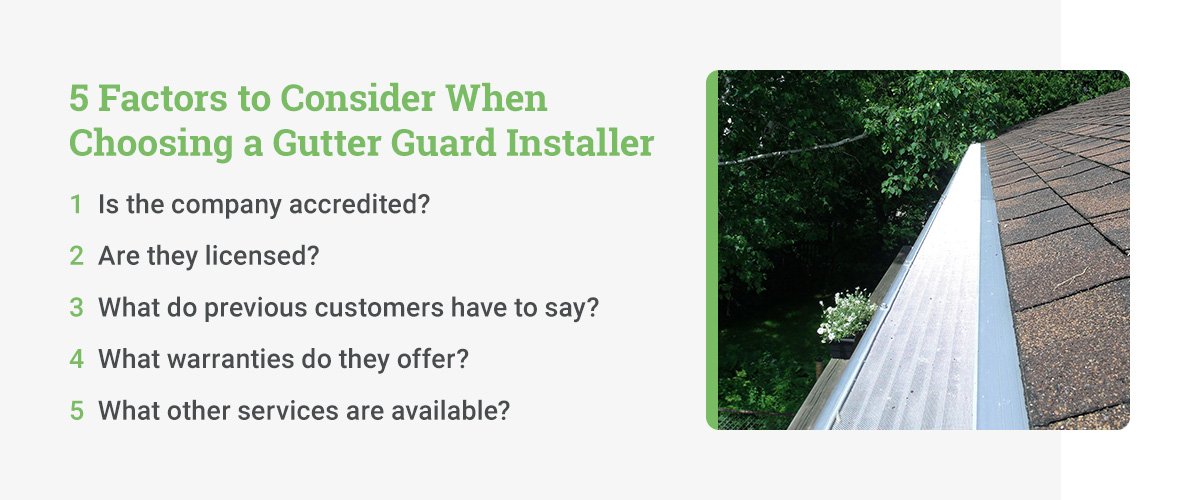 4. What Warranties Do They Offer?
Make sure to read any warranty or the guarantee of a gutter guard installation company before your project begins. Read over the website and get copies of any warranties or guarantees in writing before you sign a contract. Be knowledgeable about what the company says they will do if any problems arise.
5. What Other Gutter Services Are Available?
Consider the company's focus, whether it is broad or specialized. You will typically find premium gutter guard installers by working with companies that specialize in that area. They will most likely have the expertise to install your gutter guards properly, and they may offer follow-up inspections or maintenance services.
Trust All American Gutter Protection for Professional Gutter Guard Installation
Take your gutter guard installation seriously by working with a professional. Our dependable micromesh gutter guards reassure homeowners of clog-free gutters. As a BBB accredited company, you can trust our industry professionals and durable products to take care of your home.
Find a gutter guard installer near you or contact us for a free no-obligation gutter guard installation estimate.