Are you having problems with leaves in your gutters always stopping the flow of water and creating an unsightly mess on your roof? You're not alone. Having leaves and other debris in gutters is a common issue for many homeowners. It creates more maintenance work — and sometimes, more money spent — that many people would rather avoid.
Luckily, you won't need to spend another day climbing ladders and clearing out gutter clogs if you choose the right leaf gutter guards for your home. Leaf-free gutters could be only one quick and easy installation away — learn more here.
What Are Leaf Guards?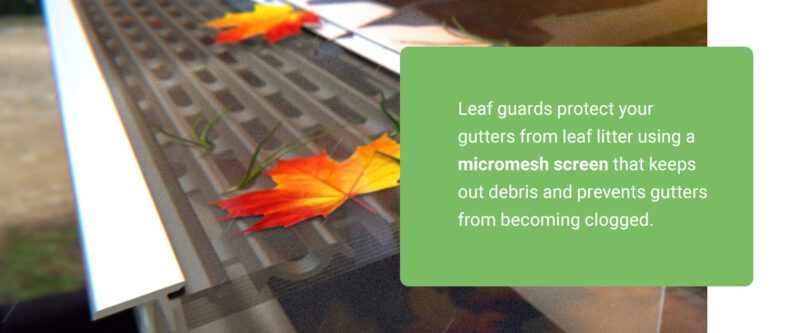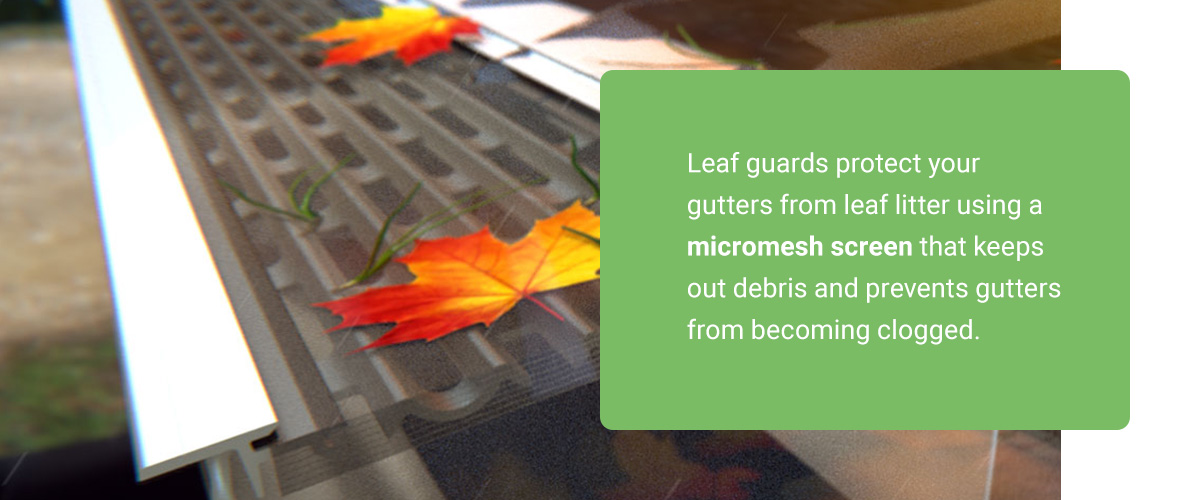 Leaf guards protect your gutters from leaf litter using a micromesh screen that keeps out debris and prevents gutters from becoming clogged. Self-cleaning leaf guards require no extra effort from you, meaning you won't have to set aside a day in your schedule to do the risky work of clearing out your gutter system.
The best gutter guards for leaves provide full coverage for your system by protecting against more than just falling foliage. They'll also keep out birds' and wasps' nests, dirt, twigs and more, ensuring your gutters are always clear.
Who Uses Leaf Gutter Guards?
Many homeowners use guards to keep their gutters clog-free. You can use leaf guards no matter what climate or area you live in. However, this solution can be especially helpful for homeowners whose residences are surrounded by trees, as there are more chances for falling leaves to obstruct their gutter systems.
Leaf guards are also useful for people living in areas that receive heavy snow or ice. With high-quality and all-encompassing gutter guards, the only thing that will enter your gutter system is rainwater — no more clogs from piled-up snow or leaves.
Without gutter guards, homeowners must do the work of clearing their gutters themselves or pay someone else to do it. As a homeowner, you're likely trying to avoid extra expenses wherever you can, which makes leaf gutter guards a good long-term investment for your house.
Why Use Gutter Protection for Leaves
Safeguarding your gutters from damage will give you a happier home with enhanced longevity. Some benefits you can reap by using leaf covers for gutters include the following:
Keep Gutters Free of Leaves
Clogged gutters can cause a range of costly issues for homeowners, which we will expand on below. In addition to structural problems, leaf buildup damages your home's curb appeal, negatively affecting the appearance of an otherwise well-maintained home. Mesh leaf guards keep the mess out of your gutters to help you preserve your house's great looks.
Eliminate Pests
Unwanted creatures like birds and insects can set up homes in an uncovered gutter system full of leaves, which may require you to call pest control on top of hiring a gutter maintenance service. Some creatures, like wasps and snakes, can threaten your home's safety and may be too risky to handle alone. Mesh gutter screens block any chance of pests getting into your gutters, so you can rest easy knowing your abode is pest-free.
Receive Long-lasting Gutter Protection
Gutter guards consisting of materials like aluminum and stainless steel will hold up for longer than plastic or vinyl alternatives. All leaf guards are not made equally, and if you choose cheaper versions, you could end up needing to replace them soon after installation and spending more money than you intended. When you select a reputable company with excellent products, this will be one less thing to worry about.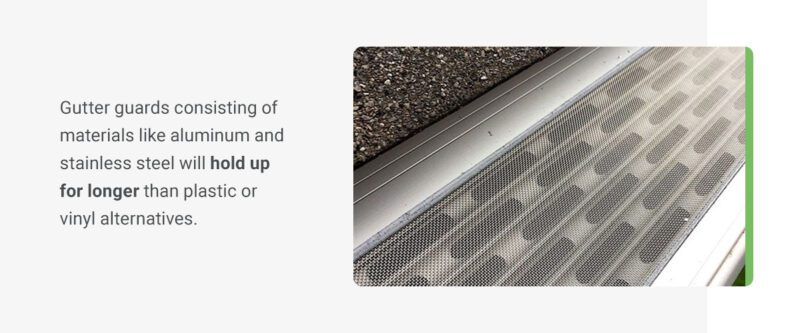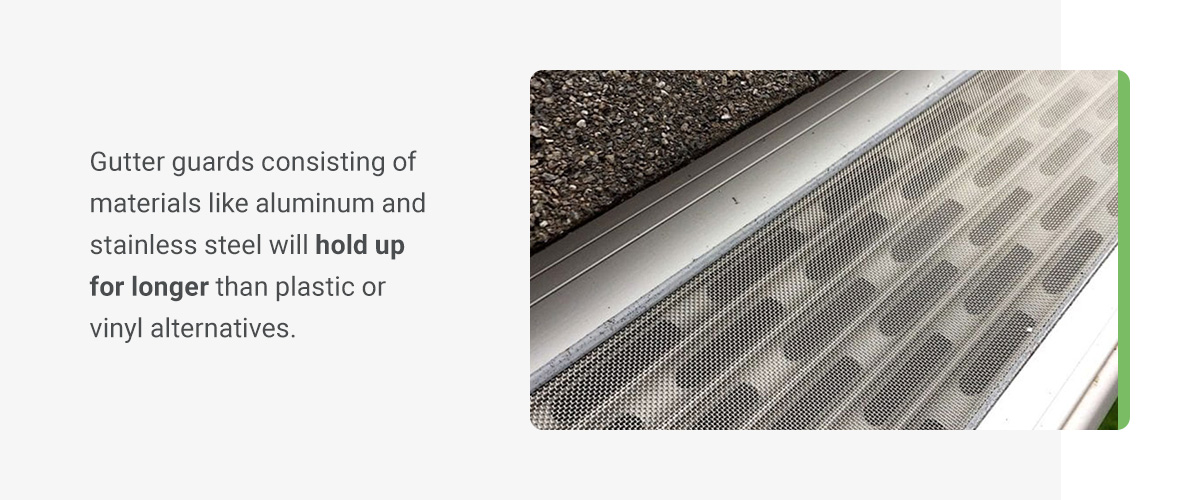 What Happens When Leaves Clog Your Gutters
Without leaf guards, your gutter system can become subject to all types of damage and debris, which can affect your whole house if not taken care of promptly. Your family's health and safety could also take a hit depending on the nature of the issue. Some problems you may run into when leaves and other objects block off your gutters include:
Roof Leaks
Gutter water can spill onto your roof or down the sides of your house and cause water damage inside and outside your residence. Water can even begin leaking into your home through the roof. The costs of fixing water damage can add up quickly, especially if mold starts growing or the issues go unnoticed for a long time. Spores can cause allergic symptoms and breathing issues, and you may have to wait out an extensive mold removal process.
Sagging Gutters
Weighed down by debris, your gutters can begin sagging and warping and may even separate from the side of your house completely. This deterioration can happen more quickly if your gutters start rusting or rotting due to a buildup of damp leaf litter. Sagging gutters can also be a safety issue because of their potential to collapse and hit someone below.
Water Pooling Around the Home's Foundation
Your gutters and downspouts divert rainwater away from your home. When they become obstructed, water can begin pooling around your foundation. This issue can send water leaking into your basement, create an unstable foundation over time or breed a population of water-loving insects like mosquitoes.
Potential Fires in Dry Climates
Areas that receive little rain are more susceptible to fires, which can quickly spread and cause incredible damage in a short time. Having leaf litter piled up in your gutters can become a fire hazard even when doing something as simple as grilling. Sparks from the grill can float on the wind and catch fire when they contact gutter debris, turning a fun event into a dangerous situation.
Prevent Leaves From Clogging Your Gutters
Put an end to your days of trying to maintain an inefficient gutter system by having leaf guards installed. With micromesh steel and aluminum gutter guards from All American, you can keep your gutters free of leaves and all other debris using a high-quality solution that will last for your home's entire life. We service numerous states so that homeowners across the nation can enjoy leaf-proof gutters.
We offer an industry-best Lifetime Performance Guarantee on our durable gutter guards, and you can also benefit from our various deals and discounts to save money on your installation. Get in touch with us today to receive your free gutter guard estimate or call 888-323-8090. If you need more time to make your decision, we'll honor your estimated pricing for up to one year!