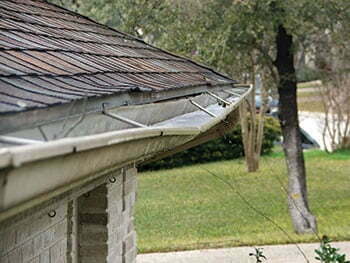 Gutters are an important factor in the health of your home. These systems not only divert water away from your home, but they protect the roof, foundation and surrounding areas. With so many obligations and tasks to stay on top, many homeowners forget about regular routine maintenance on their gutters. After so many years, your gutters can begin to deteriorate and stop performing as they should. Generally, experts recommend steel and aluminum gutters be replaced every 20 years depending on the wear and tear. Copper gutters can last up to 50 years. Gutter systems may last even longer if properly taken care of and regularly maintained. If you decide to keep old gutters on your home, it can cause extensive and expensive damage so keep an eye out for signs.
Signs your gutters need replaced:
Cracks throughout the home 

Mold

Leaking

Overflowing gutters

Sagging or hanging gutters

Icicles forming

Bent or cracked gutters

Gaps in gutters

Fallen parts from loose gutters

Stagnant rainwater 

Rotting fascia board
How can damage to gutters affect your home?
Keeping old gutters on your home can cause countless issues and clog your gutter system completely. Water overflowing from clogged gutters can harm your home's exterior leading to cracks in your foundation, pavement, windows, house panels and other wooden or cement sections of the home. Cracks in your exterior can create entry ways for bugs and pests to welcome themselves in. These cracks allow water to leak throughout the house and even invite the growth of mold. 
According to the United States Environmental Protection Agency (EPA), molds generate allergens (substances causing allergic reactions), irritants, and in some cases, potentially toxic substances (mycotoxins). Any case of mold in your home, no matter how big or small, is dangerous to have inside of a building.
In addition, water overflow can cause damage to the structure of your roof. The soffit and fascia are important components to keeping your gutters attached to your home. Old and overflowing gutters will cause the soffit and fascia board to rot, endangering the ceiling structure and overall structural integrity of the home. Delaying your gutter replacement can even cause erosion to occur in your yard or garden, destroying plants. 
As the weather begins to drop to freezing temperatures, ice dams and icicles can form on old gutters that aren't effectively diverting rainwater. Not only are these dangerous for you, but they increase the possibility of water traveling to your shingles, drywall, attic and insulation. 
So what can you do about your old gutters?
Depending on the severity of the damage and how long you've kept old gutters on your home, you may need to consider a complete gutter replacement and potentially a roof replacement.  Experts recommend replacing both at the same time to save time and money. This can become very costly, not to mention the cost of damage caused by keeping old gutters on your home. This is why keeping up with regular maintenance and keeping an eye out for signs of damage is so important. Gutter guards can also be a great addition to your home as they prevent debris from clogging and damaging the gutter system. 
All American Gutter Protection is here to help with gutter replacement options and guard guard services. We offer the best lifetime performance guarantee in the industry, same-day free estimates and custom financing options with no-money down on our gutters and top-rated gutter guards. To get started, call our office or request a free gutter guard estimate now. Out with the old and in with the new to make your home look as good as new!