Let's face it — cleaning the gutters is a tedious, time-consuming job that can often be dangerous. However, leaving your gutters clogged can lead to numerous issues, including water damage and structural problems. Thankfully, installing gutter covers means you don't have to deal with cleaning your gutters ever again. But with so many different types of gutter covers on the market, it can be tough to know which one will work for your home.
Keep reading to learn more information about gutter covers to determine the best type of gutter protection for you.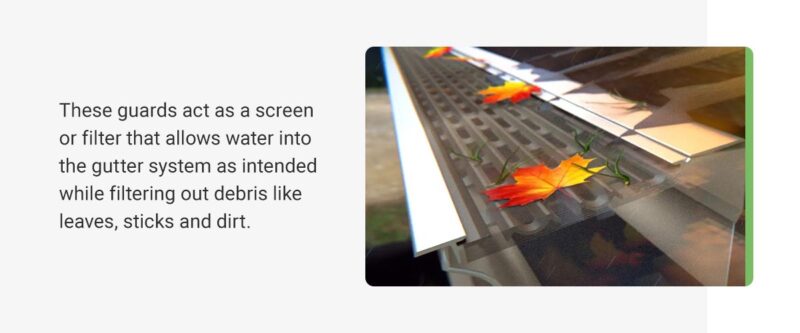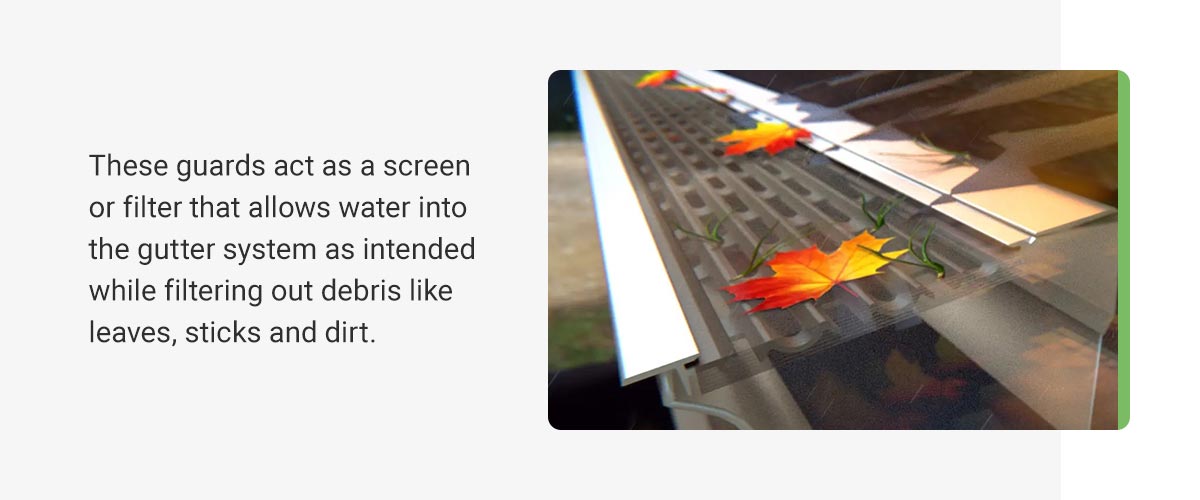 What Are Gutter Covers?
These covers act as a screen or filter that allows water into the gutter system as intended while filtering out debris like leaves, sticks and dirt. The cover itself can be made of different materials and designed in various styles. Each option has pros and cons, like any product.
Without gutter covers in place, gutters require frequent maintenance and cleaning, which can be dangerous or costly for homeowners. Because clogged gutters can be a pain to clean, homeowners may neglect the job for too long, allowing the water to create extensive issues, like sagging gutters and roof water damage.
Common Types of Gutter Covers
If you're unfamiliar with gutter guards, you may not know how to begin your search. There are various kinds, meaning you'll need to keep your unique needs in mind as you browse your options. Let's take a closer look at the various types of gutter protection currently available to you, along with the benefits and downsides of each:
1. Foam Gutter Covers
One common type of gutter cover, foam gutter guards utilize pieces of specialized foam that fit directly inside the gutters. The main advantage of foam gutter guards is that they're inexpensive and easy to install without professional help. However, the problem with this type of gutter guard is that it doesn't offer full protection — some debris may still get around the foam, and clogs may form on top of the foam gutter guards.
Because of those downsides, cleaning foam gutters is still recommended, and to do so, you'll need to remove the guards, clean the gutters and then replace the foam guards. Therefore, this system doesn't eliminate the maintenance of your gutters as other gutter guards do.
2. Screen Gutter Covers
These are pieces of screens that sit on top of the gutters, usually with larger holes in the screens. The benefits of screen gutter guards are that they're affordable and easy to install yourself. The downsides are that they're not as secure as other types of guards and can more easily become dislodged in a storm or with high winds.
The larger holes in the screens mean that not everything is filtered out, and smaller pieces of yard debris can still get into your gutter system, potentially causing clogs and other issues. Just like with foam guards, you'll need to remove and replace the screens to clean your gutters regularly.
3. Brush Gutter Guards
With brush gutter guards, large pipe-cleaner-type brushes are installed inside the gutters. These guards are made up of stiff bristles that sit upright to block debris from falling into the gutter system, while rainwater easily flows through the bristles.
This type of gutter guard is easy to install. However, it's not always the most effective, as smaller debris can get caught in the bristles or make its way into the gutters, eventually causing clogs and damage. Additionally, you need to remove and replace them when doing regular gutter cleaning and maintenance.
4. Reverse Curve or Surface Tension Gutter Covers
Reverse curve gutter guards are like an upside-down gutter that goes on top of your existing gutter. The idea behind this style is that debris roll right off the top of the guard, and water can still go into the gutters due to its tension. These gutter guards are generally professionally installed and often come with a warranty, which can be a huge benefit to homeowners.
While this type is better than many of the other options, these gutters still have cons. For one, the installation may affect the adjacent roof shingles, which can change or void the warranty on your roof. You may also need to buy an entirely new gutter system to make this type of gutter guard fit correctly. Additionally, clogs can still occur, especially if insects get inside the guards and make nests.
6. Micromesh Gutter Guards
If you're looking for the best type of gutter protection for your home, micromesh gutter guards are the way to go. When it comes to micromesh gutter guard pros and cons, the pros often outweigh the cons. Compared to the other options for gutter guards, most people find micromesh gutter guards to be the best for a few reasons.
The micromesh is made from stainless steel, so it's extremely durable and holds up against years of wear and tear. Further, micromesh gutter guards are considered to be a permanent solution, meaning they're ideal for providing a safe and maintenance-free way of protecting your gutters. These gutter guards are usually installed by professionals and come with extensive warranties, so your investment goes a long way.
What Is the Best Gutter Cover?
The best type of gutter cover for you will depend on your needs. Some options are more affordable than others, though you'll still need to maintain your gutters. Overall, to ensure the ultimate protection of your gutters and remove the need to maintain them, you should install micromesh gutter guards.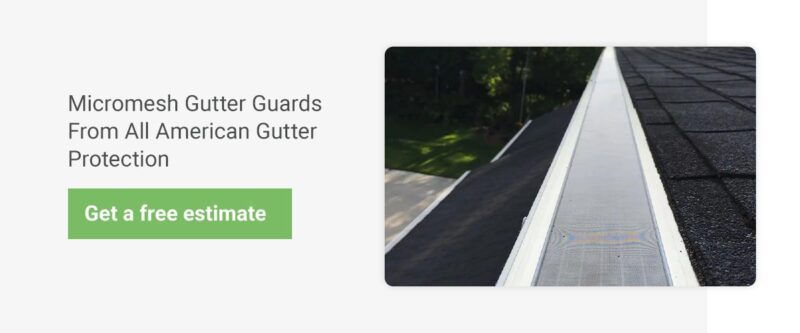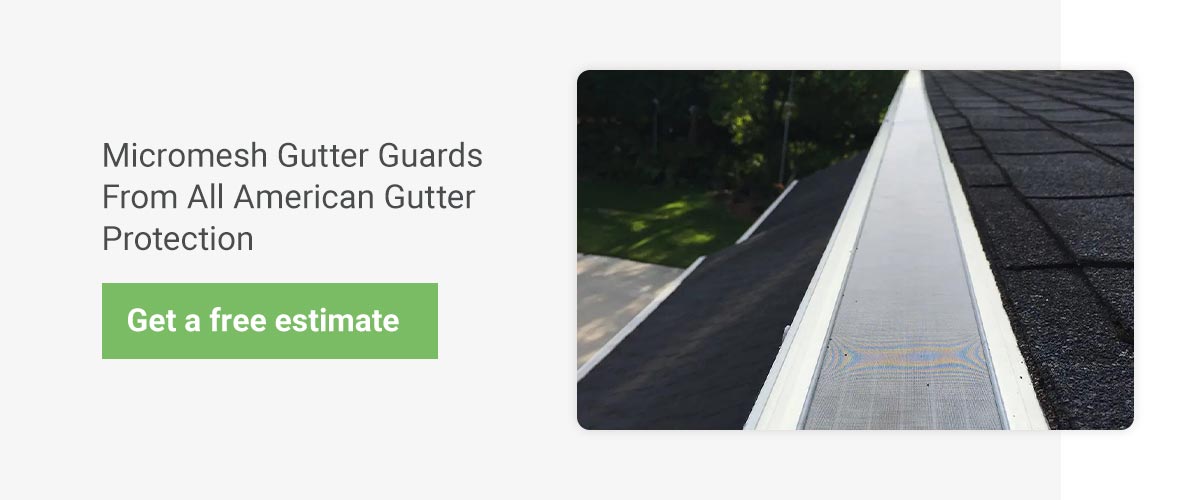 Micromesh Gutter Guards From All American Gutter Protection
At All American Gutter Protection, our gutter covers are made from top-quality 100% aluminum and stainless steel and are installed by some of the most knowledgeable installers in the industry. Let us provide you with the peace of mind that comes with truly maintenance-free gutter systems and extra protection for your home.
If you never want to clean your gutters again, request a gutter guard estimate. We honor all estimates for one year, so you have plenty of time to decide. We can't wait to assist you!