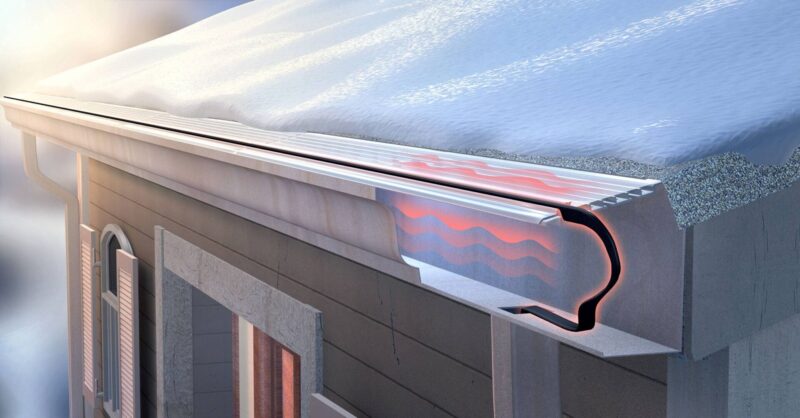 In the winter, your gutters are more susceptible to ice dams because of the accumulation of snow and the lack of heat radiation nearby. The loss of heat radiation can be due to poor insulation, gaps or cracks in the ceiling and heat seeping into the exterior environment. This causes snow to melt from your ceiling and trickle into your gutters. When this happens the melted snow turns into ice because of the freezing temperatures near the gutters, creating ice dams and dangerous icicles that can cause expensive damage to your home. So what's the solution?
An ice dam solution
All American Gutter Protection's heated gutter protection is a solution to ice dams, snow or icicles on your gutters. Heated gutter protection is a product that uses heat cables and thermal transfer to melt the ice and snow off of your gutter making them clog-free while eliminating the build-up of debris. These heated gutter guards can be added to your existing gutters and safely radiate heat throughout the aluminum support frame. This warm micro-climate thus allows melted ice to be pushed through the micromesh screen while filtering out any leaves, dirt or other debris. 
How is it structured to work?
Our gutter guards have a channel on the outer side for heat cables. The heat cables are laid into these channels and protected with a cap through your entire gutter system, into the downspout and out, plugged into a nearby outlet. These heat cables safely distribute heat onto All American's anodized aluminum frame to prevent ice build-up and clogging even in the winter. 
Benefits of heat gutter protection 
The most obvious benefit of heated gutter protection is the elimination of ice dams, snow build up and icicles. Another benefit is the prevention of leaks, moisture, cracks and water damage to your home's structure. By using heated gutter protection, your gutters are not at risk of sagging or pulling away from your home due to heavy ice dams. Heated gutter protection prevents debris from clogging your gutter while keeping your home safe from the dangers of ice dams and icicles.
Get your heated gutter protection today
Don't wait to get your heated gutters! For November only, All American Gutter Protection is offering 15% off of its heated gutter protection backed by a lifetime performance warranty. Prepare your home for the winter with our gutter protection so you're protected throughout all the seasons! Our heated gutter protection is available in all our locations with same-day free estimates.